The #3 Rated Nail Fungus Product: Nail-Rx
Nail-Rx - #3
Nail Fungus Product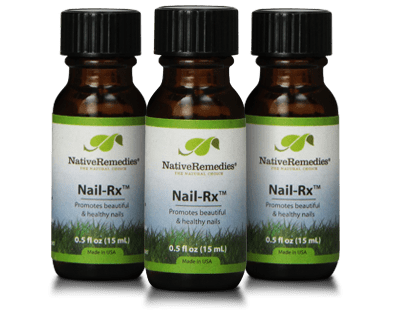 Nail-Rx by Native Remedies is a product which treats nail fungus. It promotes healthy and strong nail beds, and uses clinically tested ingredients to rid fungus, yellowing, and discoloration.
EDITOR'S RATING
31 User Reviews
Introduction
Nail-Rx by Native Remedies is a product which treats nail fungus. This is a product that uses all natural ingredients that the manufacturer claims can relieve the symptoms of nail fungus. It supports the health of the nail bed and healthy nail growth, promotes smooth, healthy-colored nails. Keep reading to find out more.
Ingredients
Tea tree Oil
Lavender Oil
Lemongrass
Clove Oil
These ingredients are not only all natural, but also highly effective in treating nail fungus.
Directions
NailRx should be applied 2-3 times daily using a cotton swab. Continue treatment at least until symptoms dissipate. For best results, continue for several weeks after symptoms are completely gone.
Possible Side Effects
Side effects of NailRx are minimal and rare. However, some users have reported irritation or discoloration. Discoloration is due to the penetration of lemongrass oil is normal, and will generally go away within a week or so.
Price
You can buy a 15mL bottle of NailRx from the manufacturer for $19.95. If you buy two bottles at $25.90, you can get one free. Furthermore, the manufacturer frequently offers promotional discounts. You can also save 10% off your order and get free shipping if you subscribe to their Auto Delivery Service.
Guarantee
Customers unsatisfied with their purchase may return the product within a full year of the original purchase and get a full refund. A 25% administration fee is sometimes charged. Shipping is not covered by the guarantee. A few reviews are present on the original product page and customers seem satisfied with their purchase but they are over two years old.
Conclusion
Native Remedies has a variety of homeopathic products that are also made with all natural essential oils. The ingredients that are in its NailRx treatment are a safe way to get rid of irritating fungus. However, there are only four ingredients and there are not a lot of reviews about the product and its effectiveness plus, they are out dated. Some individuals who have used the product say it is effective at healing nail fungus, however, several others say it irritated the skin around their nails or discolored their nails. Even though this product does cause irritation and discoloration, it seems overall to be an effective way to treat nail fungus infections and ease symptoms. For it to move up the ladder, clinically proven ingredients need to be included in its formula and more consumer reviews have to be featured on its website.
Click here to learn more about our top Nail Fungus Treatment products.
Jack Stevens
reviewed on and gave it a rating of
3
.