The #5 Rated Nail Fungus Product: Dr. G's Clear Nail Antifungal Treatment
Dr. G's Clear Nail Antifungal Treatment - #5
Nail Fungus Product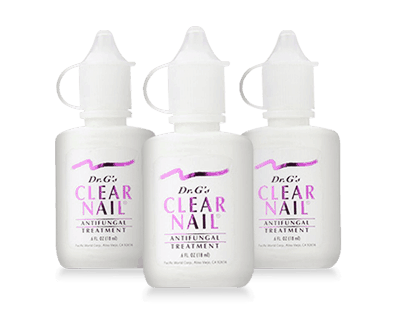 The website also claims that it promotes new healthy nail development, soothes, smoothes and conditions skin, users will begin to see noticeable improvement within 90 days with regular daily use. Keep reading to find out more. When we were researching this product, we noticed that it was very different from the rest of the anti-fungal treatments on the market. It only contains one active ingredient
EDITOR'S RATING
24 User Reviews
Introduction
The following is a review for Dr. G's Clear Nail Antifungal Treatment. According to the company's website, the product is a gentle, odor and acid-free, antifungal germ-killing solution that is safe and effective against bacteria, fungi and viruses. The website also claims that it promotes new healthy nail development, soothes, smoothes and conditions skin, users will begin to see noticeable improvement within 90 days with regular daily use. Keep reading to find out more. When we were researching this product, we noticed that it was very different from the rest of the anti-fungal treatments on the market. It only contains one active ingredient. Since most of the other products we have reviewed had a lot more ingredients, it piqued our curiosity.
Ingredients
Active Ingredient: Tolnaftate
Inactive Ingredients: Water (Aqua), Caprylic/Capric triglycerides, Isopropyl palmitate, Polyquaternium 37, Propylene glycol, Dicaprylate dicaprate, PPG-1 Trideceth-6, Cocamidopropyl betaine, Cocamidopropylamine oxide, Phemerol chloride, Cetrimonium chloride, Allantoin, Didecyldimonium chloride, Quaternium-15.
Directions
Step 1
Apply 2-3 drops twice daily around the entire nail, under the free edge (tip) and over the cuticle. It is not necessary to apply on the nail itself as the solution penetrates through the cuticle skin to the nail matrix.
Step 2
For infections on or between the toes allow solution to dry before continuing with the nail service, and advise clients to wait until solution is absorbed and the skin is dry before putting on socks or hosiery.
Step 3
Application to the adjacent finger or toe areas is recommended to prevent the spread of the infection.
Possible Side Effects
Skin irritation is listed as a side effect. Pregnant or breastfeeding women are advised to consult a doctor before use,
Price
We were not able to find a price on the official website. We were directed to an inactive order page. On a retailer seller the price of this product was $14.95 for a bottle with 6 fluid ounces.
Guarantee
There are consumer reviews or no money back guarantees mentioned on the company's website. This is certainly major drawbacks.
Conclusion
We liked that this is a gentle, odor and acid-free, antifungal germ-killing solution. However, we have several reservations recommending this product: first, it only has one active ingredient which is a synthetic form of thiocarbamate used as an antifungal agent and we are unsure of how this ingredient interacts in individuals; second, you're not getting a lot for what you are paying; third, there are no consumer reviews on its websites to testify to the actual effectiveness and safety of this product; fourth, the formula is slow acting since results are only expected after 90 days; and, lastly, there is no manufacture guarantee to ascertain quality or set the customers' minds at ease when purchasing this product. If you wish to try this product, you should be aware that it is far from the best treatment on the market, with no guarantee for success, however it will work for some and it may appeal to those on a tight budget.
Click here to learn more about our top Nail Fungus Treatment products.
Visit Dr. G's Clear Nail Antifungal Treatment Site
Jack Stevens
reviewed on and gave it a rating of
3
.